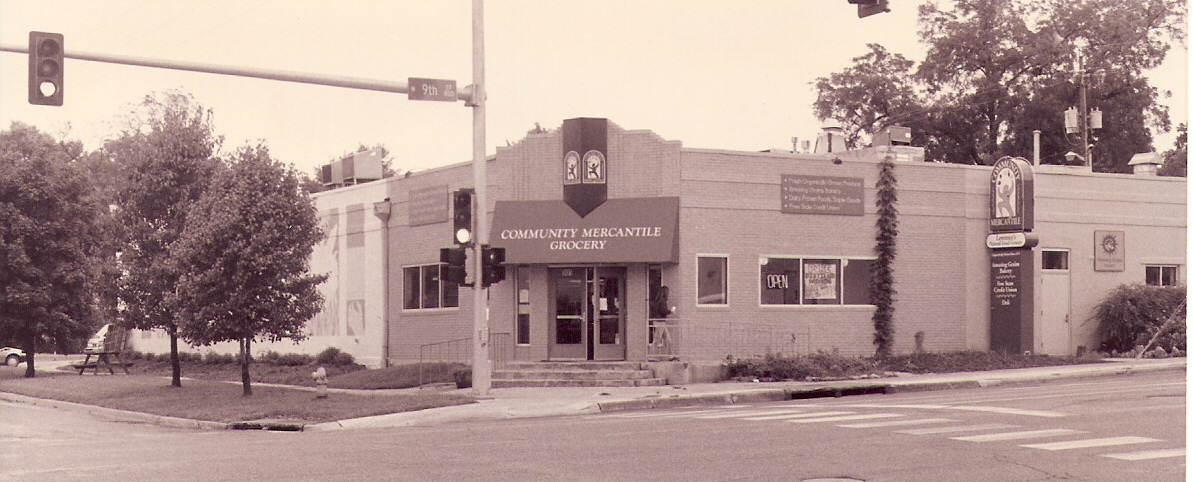 1974
A small group of Lawrencians act on their shared passion for community access to whole foods and form a volunteer-run, organized buying club distributing bulk foods out of Harry and Judy Kroeger's house in Lawrence. The Community Mercantile is born!
1975
In January of 1975, the co-op moves to 730 Massachusetts, the location of the Merchantile Grocery Co. (later Paradise Cafe, now Tonic). Six months later, The Community Mercantile moves operations to 615 Massachusetts (now Quinton's).
1977
The Community Mercantile moves to the site of the former Turner's Grocer at the corner of 7th and Maine Streets. During the 15 years at this location, the co-op's staff grows from five paid employees to a staff of 22.
1993
The co-op moves to 901 Mississippi Street – site of the former Palladium Dance Club. Facing competition from the newly opened Wild Oats Market, they narrowly escape bankruptcy but quickly recover when Wild Oats abruptly closes in 1996.
1999
Community Mercantile Education Foundation (CMEF) is established as a 501(c)(3) non-profit organization. CMEF's goal is to further the education and outreach of its sister organization, Community Mercantile, by providing nutrition education that promotes personal health and well being, strengthens our community and supports sustainable and local food systems.
2001
With 1,500 member-owners and $5.2 million in sales, The Community Mercantile moves to its current location at 901 Iowa. The 18,000-square-foot building allows the co-op to provide full-service grocery operations, including a meat and seafood department and an on-site classroom. Affectionately known as "The Merc," The Community Mercantile adopts this nickname as their brand name.
2007
Based on member surveys, employee ideas, help from outside consultants, and guidance from the Board of Directors, the co-op renovates the entire store – expanding the deli, cheese, bakery and our seating area, revamping its classroom and rebranding to The Merc Community Market and Deli.
2010
Community Mercantile Education Foundation (CMEF) launches Growing Food Growing Health (GFGH), in partnership with The Merc Co+op and Mainstreet Credit Union. GFGH is dedicated to improving the health of youth by creating school gardens that act as living classrooms, inspiring hands-on education, and connecting students to locally grown fruits and vegetables to be enjoyed in their school cafeteria. The GFGH school garden project broke ground at neighboring West Middle School in 2010.
GFGH now tends over 14,000 square feet on school grounds, and has harvested over 14,000 pounds of produce, of which 2,700 pounds has gone directly into the school cafeteria. The remainder of harvest is sold to the co-op's deli and produce departments to help support the project. In 2016 CMEF will construct educational gardens at Hillcrest Elementary and Sunset Hill Elementary following major renovations at both schools.
2011-2012
With an owner base of more than 6,700 and annual sales reaching $13.6 million, the first direct competition since Wild Oats, Natural Grocers, enters Lawrence in November 2011. After renting the space at 901 Iowa for more than a decade, the co-op purchases its building.
2015
Faced with new competition, the co-op springs into action, rebranding and renovating the store including energy efficiency upgrades. Funds for the renovations were gained, in part, through an owner loan drive, which raised over $327,000. To create a more cohesive brand and to tout the cooperative difference, The Merc Community Market and Deli becomes The Merc Co+op and aligns itself with the National Cooperative Grocers "Stronger Together" brand.
2017
In January, The Merc Co+op partners with the Lawrence Public Library to open a cafe within the lobby.
2017-2018
In October 2017, the co-op embarked on what will be Lawrence's largest solar energy project to date. Through a full rooftop array, two solar covered carports and a solar covered patio, the community-owned grocery store will install 688 high performance solar panels to provide 29% of their energy each year.
Merc Archives
The Merc Archives is a collaborative website project operated by Dan Bentley, longtime co-op owner and local historian. The site features a vast collection of photos and transcripts of the co-op's history gathered by and from a number of owners and employees.